MINISTRY OPPORTUNITIES FOR THIS WEEK
Sunday,
We will be having a combined worship service this Sunday December 17, 2017 at 11:00 in the Sanctuary.
9:00 a.m. New Day Service/Chapel
10:00 a.m. Sunday School for all ages
11:00 a.m. Traditional Worship Service/Sanctuary
Sunday Dec 17 in the Traditional Worship Service the chancel choir will provide a short Christmas program.
Wednesday,
No Wednesday night dinners till January 3, 2018
Dec 20, 2017 6:30p.m. Chancel Choir Rehearsal/Sanctuary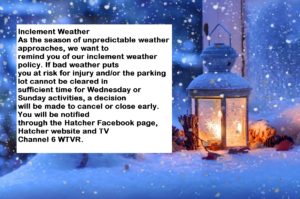 CONNECT WITH US
Follow our social media outreach and stay connected with the latest updates, newsletters and ministry events.
CONTACT US
E-mail us at
info@hatcherchurch.org